Research, Internship and Volunteer Opportunities
The CASA-Barcelona program maintains links with local institutions, which provide students with greater knowledge and integration and allows them to contribute in some way to the local community. Some CASA-Barcelona students collaborate with local public primary and secondary schools as conversation assistants, and teach English in their classrooms. Others volunteer in excavations (both archaeological and related to the recovery of the historical memory of the Spanish Civil War), in NGOs, and in various institutions linked to cultural promotion and human development.
Research
A fundamental component of the CASA-Barcelona program is the research papers and projects that deepen one's knowledge of the local reality.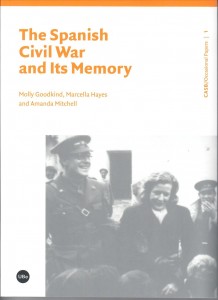 "CASA Occasional Papers" intends to serve as a platform for the dissemination of research focused on Hispanic issues. Developed by young American university students, this allows many students who visit Spain to complete their academic studies while discovering the complexity of society and local history. As a result, some students direct their academic interest towards Hispanic issues.
In this sense, "CASA Occasional Papers" aims to contribute to the evolution of a new generation of "Hispanists" from different disciplines and training at the beginning of their academic careers, while offering the results of their research to a wider audience.
In a context of crisis of social and human sciences, this publication represents an effort to promote research from the perspective of "outsiders," and offers a transatlantic perspective on interdisciplinary research.
Internships & Volunteer Opportunities
CASA-Barcelona also offers its students the opportunity to partake in internships and participate in volunteer activities. Both activities will help students not only gain valuable experience for their professional future, but also gain a deeper knowledge of the local society and culture.
Both internships and volunteering are unpaid activities, and students do not receive any credit. The students usually dedicate between 5 and 15 hours per week, according to the type of activity, the sector, and the institution that hosts them. CASA-Barcelona considers these opportunities the perfect complement for those students who seek to have an experience of total immersion in the local society.
CASA-Barcelona students participate in many different sectors:
Academic placements
Educational placements
Internship as a facilitator of conversation groups in English
Volunteering in the community
IMPORTANT: for internships and volunteer programs involving regular contact with children, such as schools and volunteering at the hospital, students will require:
An FBI background check (or equivalent document if the student is not a US citizen), duly legalized.
Given the average time required to obtain this document (12-16 weeks), students are recommended to request it as far in advance as possible.
Student Testimonials
T-S. V. y C. J., Brown University, Spring 2013.
M.: "Me duele hasta las pestañas!" I remember saying upon waking up on day 2 of the archeological dig in Loma de Montija, Burgos. My first dig, this one was especially challenging both emotionally and physically. We weren't digging for well-preserved fossils; we were digging for the remains of Republican victims of the Spanish Civil War, brutally shot with their hands tied behind their backs and thrown unsystematically into a hole about 3 by 3 meters in length".
C.: "This experience has made me approach my own studies with more caution and attention to maintaining a firmer sense of objectivity then I had perhaps practiced in the past. This dig helped me to become a better student of history and I think forced me to grow a great deal morally and intellectually."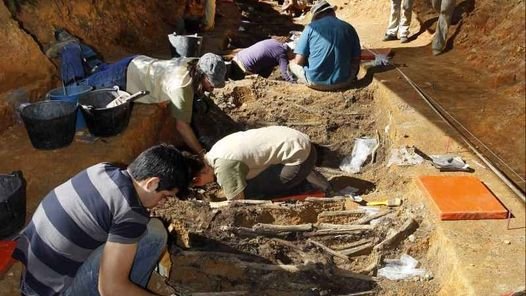 "Algo que me llamó la atención como extranjero inmerso en medio de algo de tal magnitud histórica como es la Guerra Civil española, fue la sensación unánime de que el trabajo pendiente por fin se había hecho. Los expertos que formaban el equipo de excavación de la fosa de desaparecidos durante la guerra, en su mayoría voluntarios de toda España, habían abandonado todo lo que estaban haciendo y ofrecieron voluntariamente su experiencia para la excavación. Para ellos, la excavación significaba recuperar su historia y hacer lo correcto para corregir los errores del pasado de su país. Para las familias de la zona, la excavación significaba que la muerte de sus seres queridos durante la guerra no había sido en vano."
"Estudiar fuera del propio país siempre es una experiencia diferente. Sin embargo, una actitud abierta y, sobre todo, reflexiva permite extraer lo mejor de uno mismo. A partir de una vivencia real, el descubrimiento de la realidad local, un estudiante explica las idas y venidas de su estancia en Barcelona y el aprendizaje vital y personal desde una perspectiva crítica, e irónica, que todo ello representó."
S. M., Brown, Fall 2007: Antiamericanismo, Europa y yo: una investigación personal.
"En este ensayo se compara de manera analítica la violencia en el fútbol español, en particular, el catalán, con la violencia en el béisbol norteamericano. Basándose en el análisis de casos concretos, se hace un repaso de las diferencias deportivas y culturales. El trabajo concluye subrayando el papel destacado de los elementos políticos y sociológicos en el grado de violencia que caracteriza al fútbol, y que lo distinguen del béisbol en los Estados Unidos."
"Arte público en Barcelona: franquismo y democracia" es una breve, pero sugerente, reflexión sobre la utilización de la escultura pública en la ciudad por dos regímenes políticos totalmente diferentes, e incluso opuestos. Desde una perspectiva simple, el análisis de los contenidos y las representaciones, las autoras proponen una lectura política de expresiones artísticas de gran impacto. A diferencia de otras manifestaciones, las esculturas públicas eran observadas y disfrutadas por todos los ciudadanos. A partir del análisis de cuatro obras aún existentes en las calles de la ciudad, se apuesta por la inserción de la obra no sólo en su contexto espacial sino también temporal.