CASA Center in Havana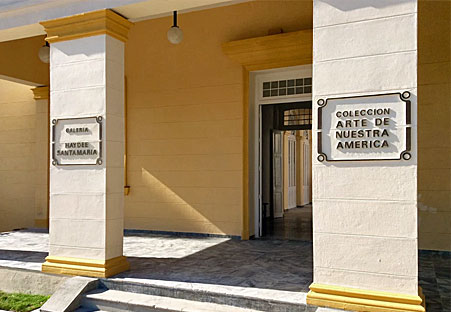 CASA's Center in Havana is located in the historic Galería Haydee Santamaría, a spacious art gallery in the Vedado district of Havana. Built in the early 20th century in the Spanish colonial style, and restored in 2015 for use by CASA, the Galería provides classroom space, two interior patios and administrative office space for the program. It is outfitted with limited Wi-Fi access for CASA students, faculty and staff.
The gallery is open for student use from Monday through Friday from 8 AM to 8 PM, and on weekends from 8 AM to 4 PM.
Galería Haydee Santamaría
Casa de las Américas
Avenida de los Presidentes (G) esq. 5
El Vedado, La Habana, Cuba
Tel. (+53) 7 835-1569
CASA-Cuba Staff
Dr. Rainer Schultz Center Director
Dr. Rainer Schultz is the Center Director for the Consortium for Advanced Studies Abroad/Cuba Divisional Center. As the Director, he is charged with the overall responsibility for administering the CASA-Cuba program, including its day-to-day academic and programmatic management, student advising, liaising with CASA's partner institutions in Havana and supervision of local faculty and staff. He previously worked with the Cuban Studies Program at Harvard University and the Harvard College Program in Cuba. As a historian, his research focuses on education, development, and nationalism in republican and revolutionary Cuba with a special attention to American and Soviet influence. His doctoral research in Cuba and the US was sponsored by grants from the Mellon Foundation and the German DAAD, among others. As an undergraduate at Humboldt University, Berlin, Dr. Schultz was an exchange student in Havana in 2000. In Cuba, he has taught at the University of Havana and worked for Cuban journals such as Temas and OnCuba.
Tel. + 53-7-835-1569 / rainer@lahabana.casa.education
Dr. Hope Bastian Associate Director
Dr. Hope Bastian is the Associate Director for the Consortium for Advanced Studies Abroad/Cuba Divisional Center. Since 2014 she has been a professor at the Colegio Universitario San Gerónimo de La Habana, Universidad de La Habana. Her research looks at social capital, social networks and social mobility and economic and social inequalities in contemporary Havana. As an anthropologist she has done research in Cuba since 2012. Her PhD research in Havana from 2012-14 was funded by a National Science Foundation Doctoral Dissertation Grant. As Associate Director, Dr. Bastian assists in academic programming, extracurricular activities, and private cross-cultural support. Hope is students' first point of contact for everyday concerns and challenges. Before joining the consortium team, she directed study abroad programs for American University and CIEE in Havana. She has also worked in Cuba at the Martin Luther King Center in Marianao, and as a public health reporter for MEDICC Review. Dr. Bastian was an exchange student in Havana in 2002.
Tel. + 53-7-835-1569 / hope@lahabana.casa.education
Wi-Fi Access Limitations
From Monday through Friday during class hours, there are some restrictions on Wi-Fi so that we can guarantee that students, faculty and staff are able to access their e-mail and do online research at reasonable speeds. During these time periods social networking sites, VOIP calling services (Skype, IMO and similar), video and audio streaming and download sites like YouTube, Netflix, torrents and other pages and programs that require high-bandwidth, are blocked. High-bandwidth sites and software updates should be done during evening and weekend Wi-Fi hours.